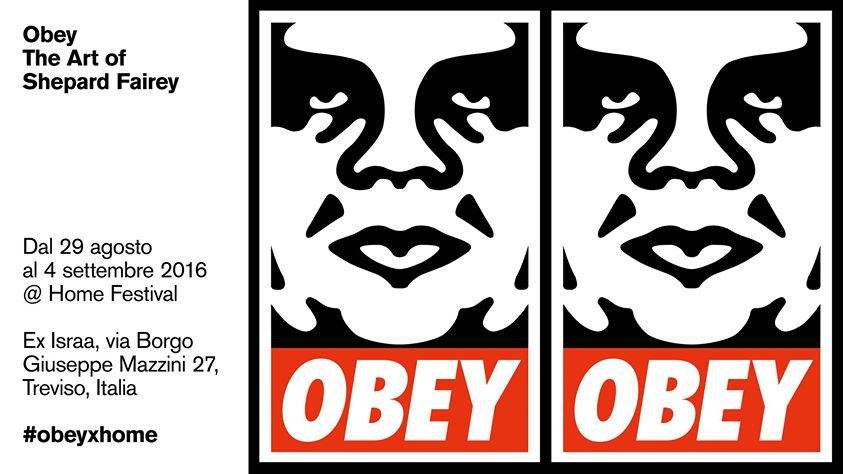 (Italiano) Evento Home Festival – Mostra Obey Giant
Evento Home Festival Mostra Obey Giant
Mostra Obey Giant Hub SUN68 è l'evento collaterale di HOME FESTIVAL, fulcro, cuore di una rete pulsante che collega infinite linee di trasmissione. Hub è Arte, Hub è Musica, Hub è Fotografia.
Mostra Obey Giant : Punk-Rock, Hip-Hop e Skateboarding: il trio di movimenti controculturali che più hanno influenzato l'arte di Shepard Fairey sono in mostra all'ex sede Israa di Treviso dal 29 agosto al 4 settembre.
Oltre ad affrontare soggetti di musica e controcultura, attraverso il marchio Obey Shepard Fairey alza il velo sulle tematiche sociali più spinose ed attuali per mezzo di immagini forti, provocatorie ed irriverenti. Non a caso la mostra prende forma sullo sfondo perfetto del Home Festival di Treviso, che dal 2010 è casa di musica, arte, cultura e migliaia di giovani. Fairey ha sempre riconosciuto la musica come miglior piattaforma di commento sociale e politico, citando musicisti quali The Sex Pistols, The Clash, Black Flag e Public Enemy, e la cultura Do-It-Yourself che li circonda, come sue principali influenze.
La mostra, intitolata "Obey. The Art of Shepard Fairey", vede esposta una selezione di opere dello street artist americano su media misti – stampe, fine art, ma anche tavole da skate e chitarre elettriche.
https://www.facebook.com/events/1873308252897036/
Antica Osteria Al Botegon è partner tecnico e rivenditore ufficiale dei biglietti per
l'Home Festival.
Per maggiori info rivolgiti allo staff.

Home Festival 2016
Treviso 1-2-3-4 Settembre
There's no place like Home!